Trainz.com—An Approved MTH Service Station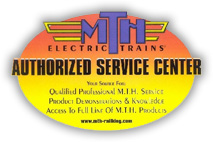 Over 30 years of combined experience!
Trainz.com boasts one of the largest and most experienced repair staffs in the model train industry. At Trainz we perform repair and overhaul work on older items we purchase, service newer trains in need of repair, and perform repair work for customers as well. IN 2009 alone, our team repaired and serviced nearly 10,000 separate locomotives, cars, accessories, and transfomers.
We stand behind our products
When you purchase an older Prewar or Postwar-Era item from Trainz, it has been inspected, cleaned and repaired prior to being sold. There is no 'just throw it on the website' attitude here. If we can fix it, we will. The only time we sell an item as-is is if we cannot repair it.
We also make every effort to preserve the authenticity of the trains. We stock thousands of parts, many of them original, and we often use these original parts in our repair work.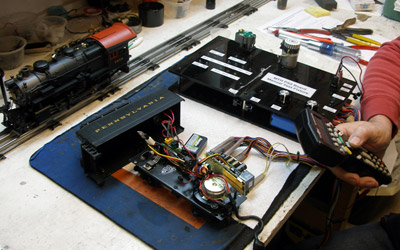 Peace of Mind
Our repair staff stands behind its work. In the event that we sell an item as operable and it does not work, we will fix it at no charge, and we will even pay the freight to have it sent back.
Experience and Great Service
Trainz' six-person repair staff offers a level of service that is hard to match. Each person on our repair team has their own area of specialty, and all have received extensive training. Two of our repairmen have attended MTH's classes for servicing and repairing modern command-equipped locomotives.
Repair Service:
If you have an item not bought from Trainz or not covered under warranty, we will repair it. We charge $65 per hour for labor plus parts. We will also provide an estimate prior to performing the repair work if asked. To obtain service, package your items with a note explaining the work needed to be done, and send it to:
Trainz.com
Attn: Warranty Repairs
2740 Faith Industrial Drive
Suite 200
Buford, GA 30518
Trainz will make every effort to have the item ready to ship back to the customer within 10 business days. In the event a repair will take longer, the customer will be notified.