There are also many fun and exciting pieces available to add to the Lone Ranger Wild West Train Set. They are all available at Trainz at prices well below the manufacturer's suggested retail. Extra track, cars, and accessories are all waiting to turn your set into a miniature railroad empire.
Below is a list of items that go great with the set. If you click the Buy Now button, a new window will open on your screen, so you will not leave this article accidentally.
Just click the buttons to see:

Thanks for looking!
Expansion Set and Matching Cars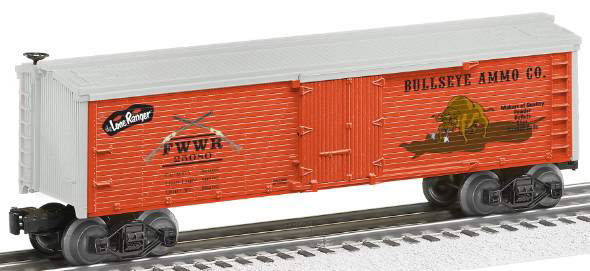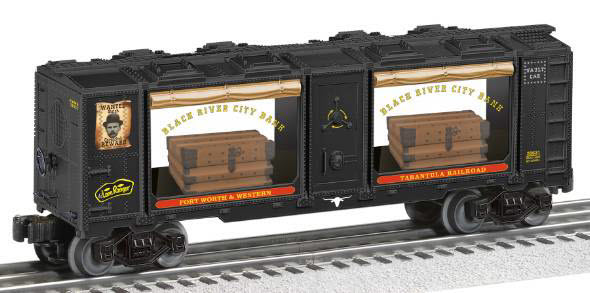 Lionel 11162 Lone Ranger Add-On Car Set
The perfect addition to the Lone Ranger Wild West set. This set includes three cars, a 'Kemo Sabe' 1800s-style passenger car, a Bullseye Ammo Company boxcar, and a Black River City Bank vault car. The passenger car is lighted, the boxcar has sliding doors, and the vault car has two strongboxes inside. All three cars have die-cast metal trucks and operating couplers.

Price: $129.99


Lionel 35185 Great Western Passenger Car 2-Pack
Turn your Great Western Set into a passenger train with this pair of cars. Both are lighted and have plastic trucks and operating couplers.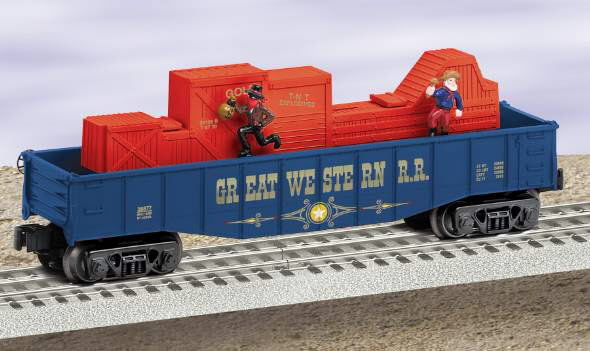 Lionel 36887 Great Western Animated Gondola
On this fun car, the bandit and gold miner chase each other around the crate load as the car moves down the track. The car features metal trucks and operating couplers.

Lionel 39480 Western and Atlantic Flatcar w/Cannons
This car features die cast trucks and operating couplers, metal truss-wire braces on the flatcar, and three die cast cannons. The cannons can be removed.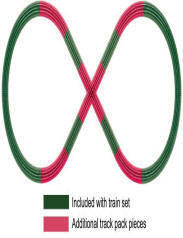 Lionel 12030 Figure-8 Track Pack
This set expands the basic oval of track included with your set into a figure-8 pattern. It includes four O36 Curves, four 5 inch Straights and one 90 Degree Crossover. Figure-8s are neat as they create a junction in your track and add more interest to a basic oval.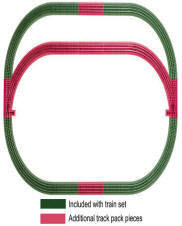 Lionel 12031 Outer Passing Loop Track Pack
This set expands the basic oval of track included with Lionel starter sets into a larger oval with a siding. It includes straight pieces and creates a larger loop than the 12028 expansion pack. This track pack includes five 10 inch straight track sections, two O-36 curved track sections, one right hand switch with 1/4 O36 curve and one left hand switch with 1/4 O36 curve. This track pack is great for creating a storage siding for extra cars. Besides the plan shown, the 12031 set in combination with the track in your set can create several interesting track arrangements.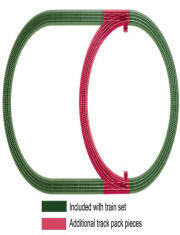 Lionel 12028 Inner Passing Loop Track Pack
This set expands the basic oval of track included with your set into a larger oval with a siding. This track pack includes two O-36 Curve tracks, one right hand switch with a quarter curve , one left hand switch with a quarter curve and the layout measures 39 1/2 inches x 70 1/2 inches when added to your existing oval. Sidings are great as they provide an alternative route for the train to take, and the switches can be used in a variety of even more interesting plans.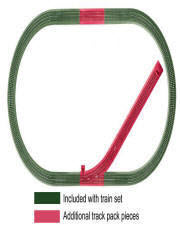 12044 Spur Siding Track Pack
This set expands the basic oval of track included with Lionel starter sets into a larger oval with a spur siding complete with a bumper and automatic uncoupling section. The uncoupling section can also be used to activate many Lionel operating freight cars. The spur can be used either as storage for an extra car or two or a place to unload your operating cars.

Price: $81.99



Lionel 12014 10" FasTrack Straight Section
This is the standard Lionel straight track section and is identical to the ones included in sets.


Price: $3.69


Lionel 12042 FasTrack 30" Straight Track Section
This section is the equivalent of three #12014 10" straight sections. This track is perfect for use on long straightaways as it simplifies setup and cuts down on the number of track joints.

Lionel 12015 Fastrack O36 Curved Section
One of the basic building blocks of FasTrack layouts, eight of these make a circle 3 feet in diameter. Nearly all Lionel starter sets include a circle of O36 track.

Price: $3.69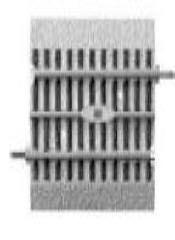 Lionel 12020 Uncoupling Track Section
Lionel freight cars have couplers that can be opened using this track section. The center magnet is activated by a remote control button included with the track. Park the car's coupler over the magnet, press the button, and the cars uncouple! This uncoupling track consists of two sections of track, one that has the uncoupling magnet, and the other is just s half track section. You can use it as it is to simply replace an existing section of straight track, or you can split it into two pieces and use it however you would like. Each section is 5 inches long.

Other Great Accessories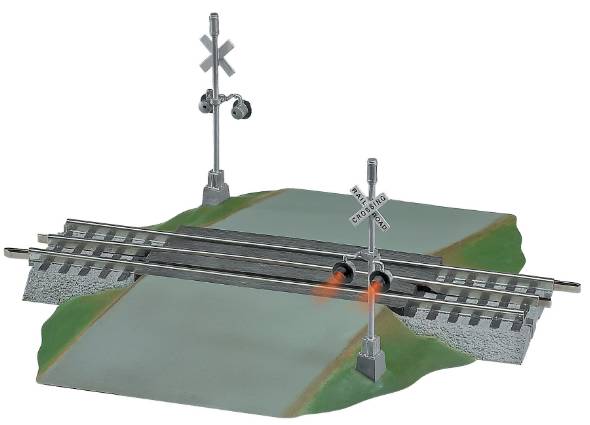 Lionel 12052 FasTrack Grade Crossing with Flashers and Bell
When a train approaches the lights on the two signals flash alternately and an electronic bell sounds, and the action stops once the train passes. The bell sounds can be deactivated with a switch hidden in the track. When assembled the accessory is the same length as two sections of standard FasTrack 10" straight sections like the ones included in your set. The roadway section is 6 1/4 inches wide.

Price: $69.99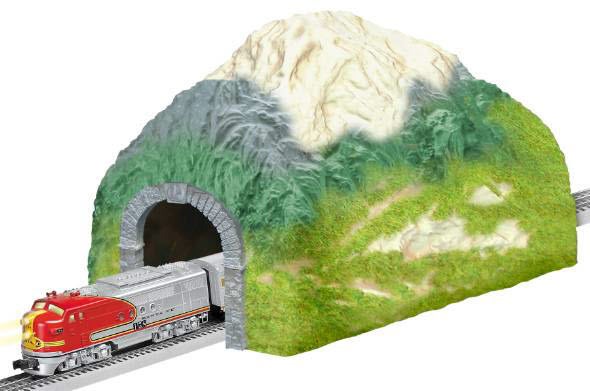 Lionel 16868 Tunnel
Made from durable fiber board (not styrofoam), this tunnel features a simulated mountain design and has molded-in portals at each end. It requires at least 28" of continuous straight track. Dimensions are 24" long, 9" wide and 14" tall.

Price: $29.99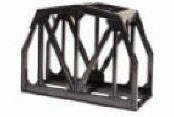 Lionel 62716 Short Extension Bridge
FasTrack compatible, this snap-together bridge measures 10 x 4 1/4 x 6 5/8 inches.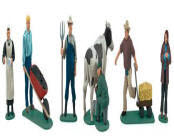 Lionel 24196 Farm People Pack
This set of six metal figures includes a woman cooking, a man with a wheelbarrow, a farmer with his pitchfork, a man milking a cow, a man with a wagon, and a woman standing. Each figure is between 1 1/4 and 1 1/2 inches tall.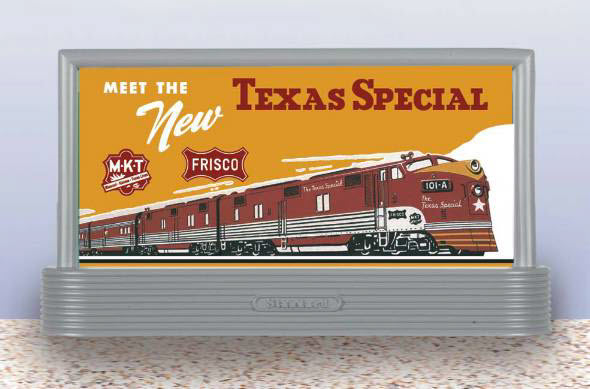 Lionel 24205 Billboard Set
This set includes three billboard stands and five different billboard inserts. Each measures 5 3/4 x 4 1.2 inches.


Lionel 16843 City and Western Two-Sided Diorama
Here is a quick way to add a backdrop to a temporary layout. Well over 5 feet long and nearly one and a half feet tall, this diorama fits perfectly with a loop of track included with Lionel starter sets. It is made of thick cardboard and has western mountain scenery on one side, and and urban background on the other.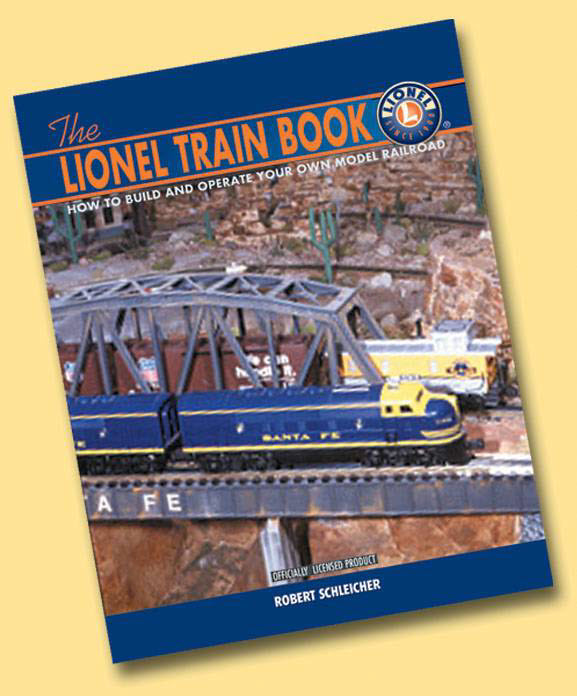 Lionel 14190 Lionel Train Book
A great primer for the new Lionel enthusiast. This book covers the basics on track, wiring, scenery, maintenance, and building a complete Lionel layout.

Price: $25.49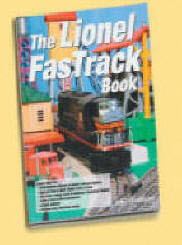 Lionel 24200 Fastrack Book by Robert Schleicher
All you ever wanted to know about FasTrack is in this book. This helpful guide explains how to use the Lionel FasTrack track system with more than 100 color photos and diagrams that show how to plan and create layouts for both large and small spaces. Dozens of track plans also show a variety of ways to integrate scenery and Lionel operating accessories to create a realistic layout. From small tabletop layouts, to large floor plans, there are many track ideas for you to explore, including double-track layouts for two trains, layouts to allow reversing trains, and any number of do-it-yourself designs.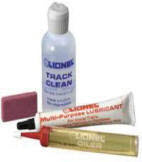 Lionel 62927 Maintenance Kit
A must either for anyone with a Lionel train set, it includes gear lube, an oil applicator, track cleaning fluid, track-cleaning eraser and cleaning instructions. This kit will ensure the operating quality of your locomotives and keep them running smoothly for years to come.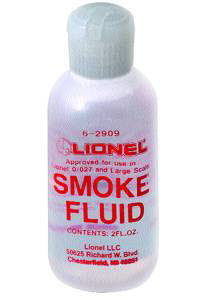 Lionel 62909 Smoke Fluid
This 2 ounce bottle of fluid is designed for use with all Lionel steam and diesel locomotives that feature smoke units. Your set includes a small bottle of fluid to get started, but before long your engine will need a refill.